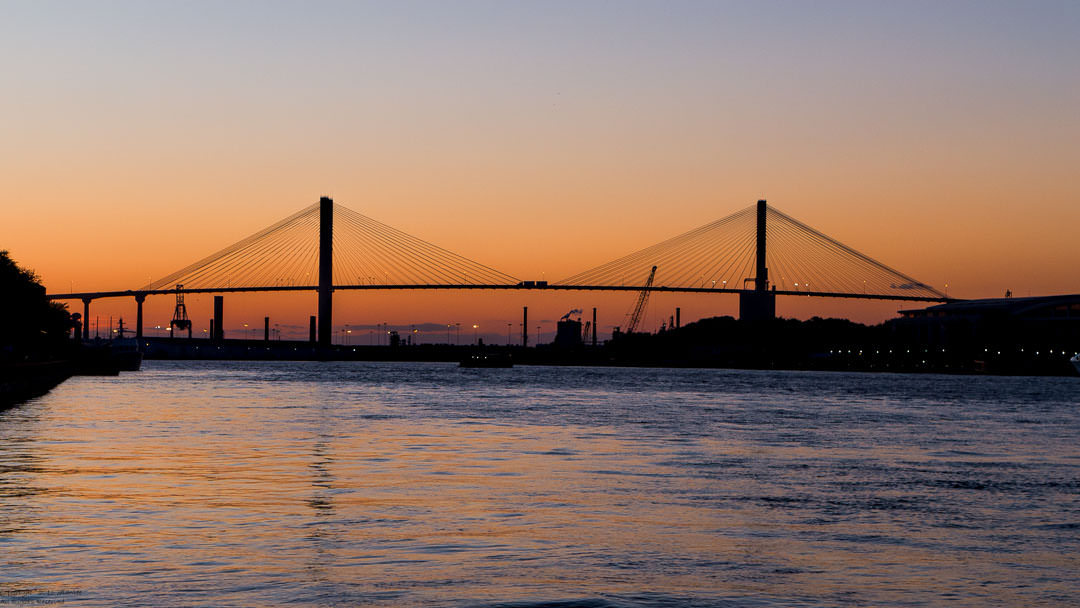 Sunset as a trucker is heading for Georgia over the Savannah River.  Traveling again and spent the week "down South" where it was warm, sunny and a bit wet.  Missed the snow and cold in Wisconsin – will Winter never end?!?
I love spending time in Savannah, especially on the river.  Lots of interesting people and things to see (more posts this week).  I think the river is my favorite.  Ships go by on their way to the open ocean and I wonder where they are going and what they are carrying.  I think it is romantic!  Part of me has always wanted to go to sea on a ship and sail the world.  Of course, if I ever did it I would probably find it is not as romantic as it seems.  Days filled with work and monotony and the time in port is too short to see anything.
Oh well, I can always have the dream…
Taken with my Panasonic Lumix LX7 in the 16X9 format.  The LX7 is an interesting camera in that it uses different areas of the sensor to capture different sized pictures.  No digital stretch or squeeze or cropping to get the picture you want.  I took this shot in manual mode to keep the ISO and the noise down.  Camera held on a piling to keep it steady.  I also bracketed  +/- 1 1/3 stop to make sure I got the right exposure; the camera can be easily fooled by the relatively bright sky next to the dark land.
Panasonic Lumix LX7 | 17.7mm | 1/200 s @ f/4.0